KONOVER SOUTH BREAKS GROUND ON SHOPPES OF WESTLAKE LANDINGS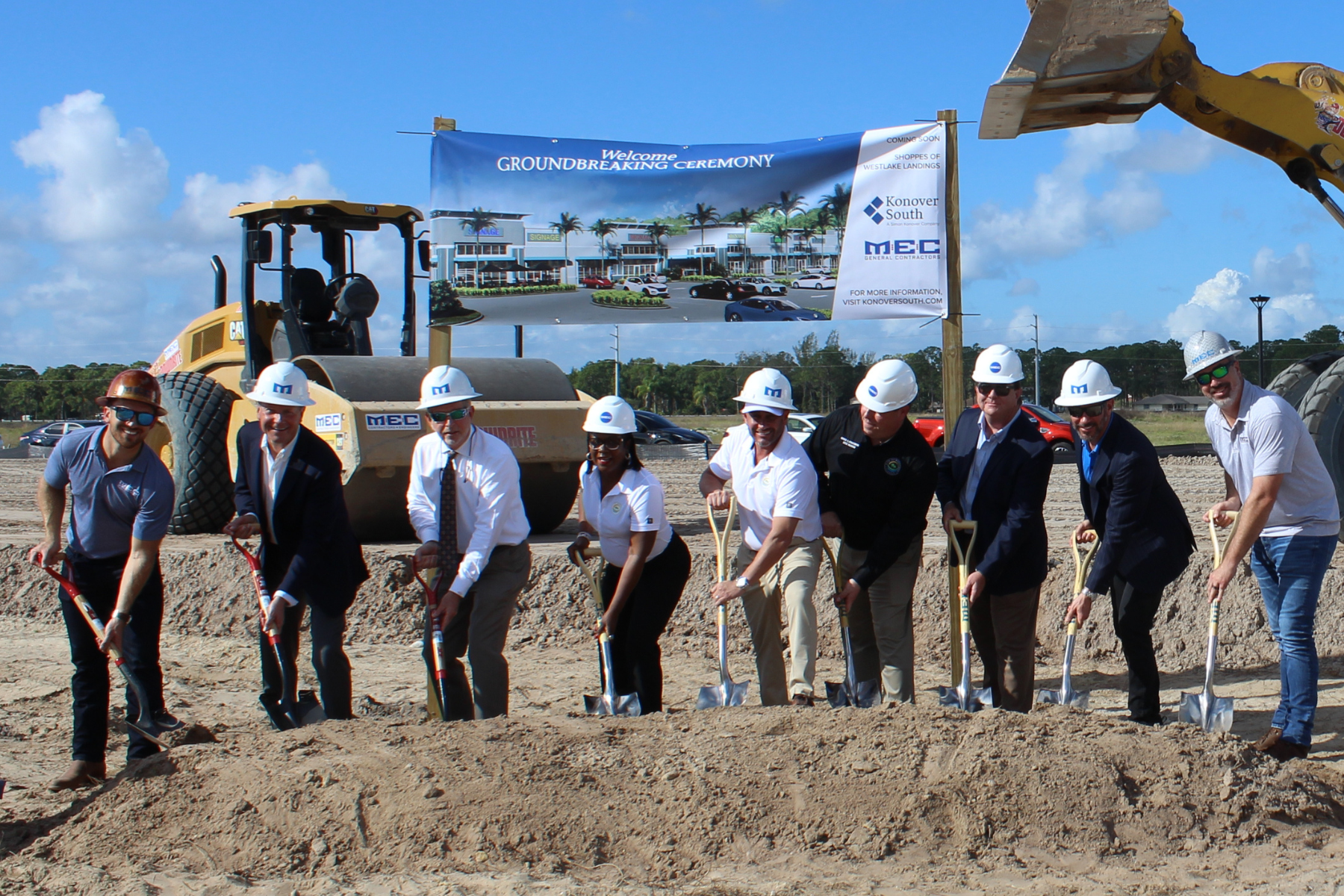 DEERFIELD BEACH, Fla. (January 31, 2023) – Konover South held a groundbreaking ceremony with Minto Communities, MEC General Contractors, and city leaders for Shoppes of Westlake Landings, the newest retail and restaurant complex in Palm Beach County's up-and-coming city, Westlake.
Konover South purchased a 7-acre parcel from Minto Communities in 2021. It will develop Shoppes of Westlake Landings, consisting of two multi-tenant retail buildings and a pod of quick-service restaurants totaling 23,000 square feet. MEC General Contractors will be building the project for Konover South.
"I want to thank Minto Communities for giving us the opportunity to develop this project and trusting us to provide some needed services for the community of Westlake," said Bob Bedard, Konover's Senior Vice President of Development. Bedard was joined by other members of the Konover South team, including Chief Executive Officer and President David Coppa, Executive Vice President Jeff Williams, General Counsel Jacob Gerb, Director of Leasing Zachary Feldman, Director of Construction Patrick Christie and Vice President of Property Management, Laura Goetz.
"I am happy to be working with such a great team," added Bedard.
The City of Westlake was represented by Mayor JohnPaul O'Connor, Vice Mayor Greg Langowski, Council Woman Charlotte Leonard, and City Engineer Susan Dombrowski. MEC was represented by President Gary Neal, VP Mitch Miorelli and Project Manager Peter Ishak.
To date, tenants that have signed leases include Starbucks, KFC, Taco Bell, Habit Burger, 3 Natives, Heartland Dental, Verizon Wireless, Go Green Cleaners and Orange Theory Fitness.
Konover South expects the project to be 100 percent leased by the time it opens later this fall.
The Shoppes of Westlake Landings is part of a broader building boom in Westlake, approved for 4,500 homes and 2.2 million square feet of commercial development.
Built on a legacy of a family tradition spanning three generations, Konover South continues the successful track record of The Simon Konover Organization, an industry-leading real estate company since 1957. Konover South is a fully integrated acquisition, development, and management company operating throughout the southeastern United States. Led by David Coppa, CEO, Konover South, LLC, is headquartered at 431 Fairway Drive, Deerfield Beach, Fla., phone 954-354-8282. Visit the company's website at www.konoversouth.com.
---